Prana & Planting Workshop
Lynette Greenaway & Jaqueline Winston-Silk
30 OCTOBER
1:00PM – 3:30PM
Cost: £45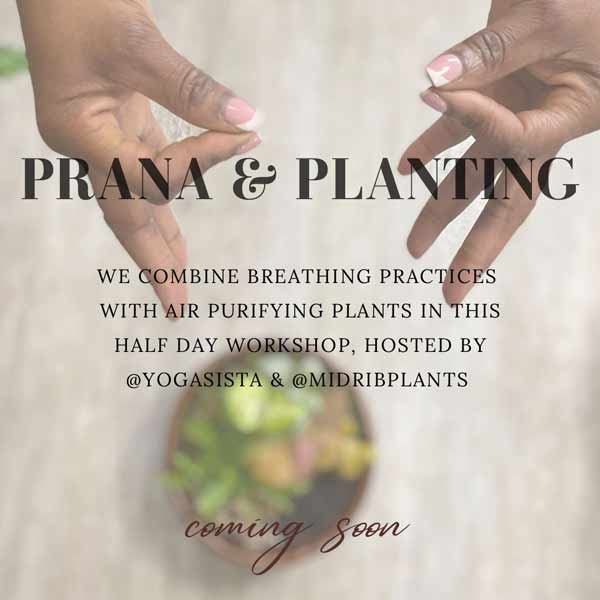 Date: 30th October
Time: 1:00PM – 3:30PM
Location: Yoga Reading
Cost: £45
We (Midrib Plants and Yogasista) are thrilled to be offering this unique combination of yoga, mindfulness and horticulture in a wonderful 2.5 hour workshop at Yoga Reading.
In this workshop you will experience breathwork, movement and create your own 'Breath Bowl'. A terracotta container of air purifying indoor plants.
Our breath is tied to the plant life in our ecosystems. Both are infinitely supported by each other. Your inhale is a plant's exhale, and your exhale is its inhale.
This workshop will start with a very gentle and accessible 30 minute yoga practice that will allow you to slow down and bring your awareness to the world around you. This flow focuses on grounding and connecting with the beauty, harmony, and wisdom nature has to offer you. We'll finish with a meditation with breathing cues that remind you that your breath is a blessed exchange with the planet.
Then….( after a short tea break)
Join Midrib Plants founder (Jaqueline Winston-Silk) to design and create your own unique Breath Bowl.
What will I do during the workshop?
You'll be guided through the Breath Bowl making process in this group workshop. To create the miniature green landscape, you'll use an array of plants known for their air purifying and oxygenating properties. You'll use a terracotta container – a material which itself breathes, allowing both air and water to pass through! Plus, decorative pebbles, soil toppers, indoor gardening tools and all the ingredients to create an enriched substrate suitable for purifying plants.
What is included and who is the workshop for?
All equipment is included, however indoor gardening can be messy so we recommend wearing suitable clothing or to bring an apron! No experience or prior knowledge is necessary, the workshop is suitable for 16+ years.