(Led) Ashtanga Vinyasa Yoga
Our led ashtanga vinyasa classes take students through the first half of the Primary Series so they can experience this dynamic, flowing practice, characterised by its use of the 'vinyasa', or a 'special link', which connects each posture to the next in one smooth movement, in synchronisation with the breath.
This marriage of breath and movement is the essence of ashtanga vinyasa. The heat created detoxifies the body and gives a great all round cardiovascular exercise; building strength, stamina, flexibility and tone.
While ashtanga is often seen as a more dynamic, challenging form of yoga, in reality anybody with an average level of fitness can do it.
With practice the strength and flexibility will come.
TO SEE THE Ashtanga Primary Series Instructional card - CLICK HERE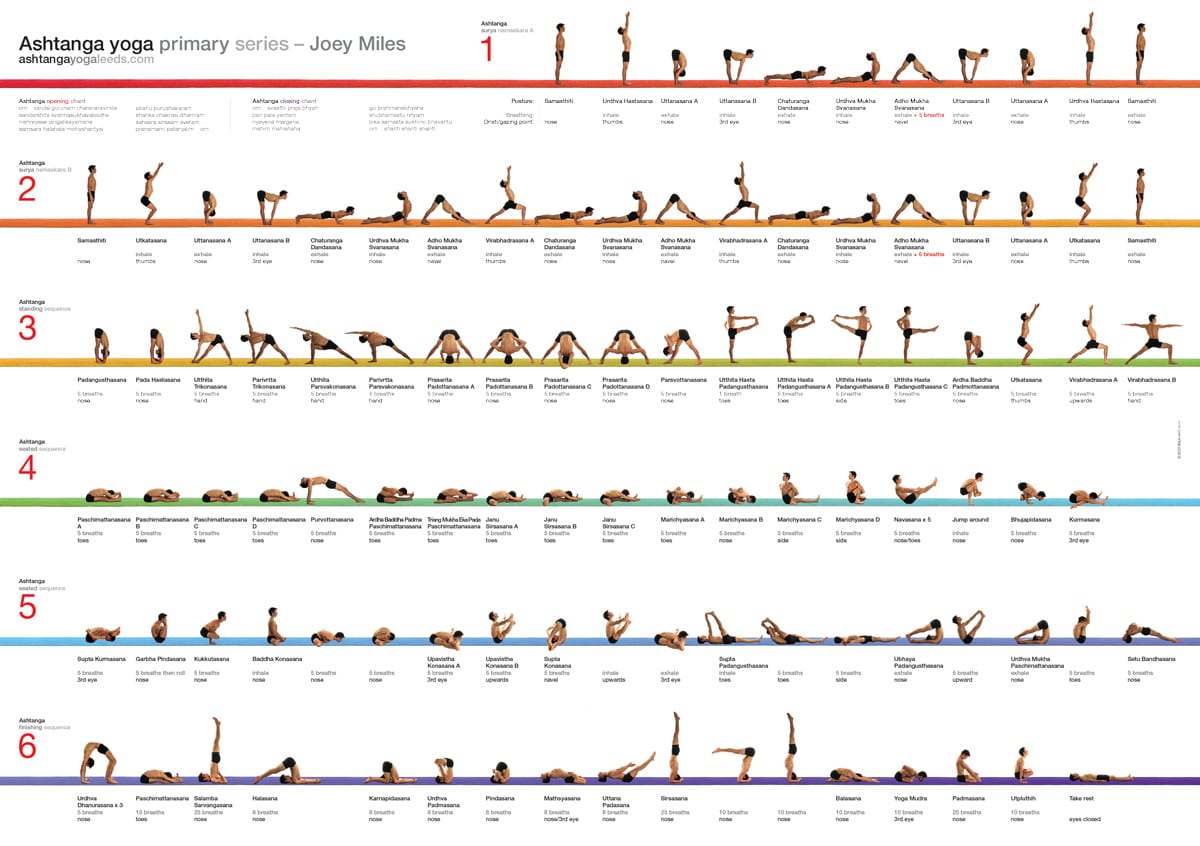 You can download the
Ashtanga Primary Series Instructional card here/p>
About Ashtanga Self Practice
The 'Self Practice' style describes the unique way of learning ashtanga yoga where you learn the Primary Series step by step, entirely at your own pace. So rather than being led through the sequence, you will be aided in memorising the poses over time, cultivating a consistent practice, and practicing independently. New poses will be added gradually. Your class time will vary depending on your pace and the number of postures you have learned to practice. It is not necessary to arrive at the exact start time or stay for the entire scheduled class.
We regularly hold Beginners Courses. If you are new to yoga this course is essential and a great introduction to the ashtanga yoga practice.
Restorative Yoga
This is the practice of slowing down.
Sink in. Allow yourself to be held by the support of bolsters, straps, blocks and eye pillows. Take your time to get completely comfortable in each position so that you can settle in for up to 15 minutes.
Each session will include a guided relaxation in Savasana. Some weeks many include a Yoga Nidra (yogic sleep) and include a guided journey of sensation through the body, noticing one part at a time.
Yin Yoga
While a dynamic yoga practice focuses on the muscles, yin yoga focuses on the connective tissues, such as the ligaments, bones, and joints of the body that normally get less attention during a more active Asana practice. Suitable for almost all levels of student, yin yoga is a perfect complement to a dynamic (yang) practice such as ashtanga which focuses on heat building and purifying and muscle strengthening and lengthening.
In this class we add multiple props (blankets, bolsters and blocks) to support the body and create a restorative experience.
FUNCTIONAL FLOW
This is a general level class and is suitable for anyone who wants to move with more ease. It will focus on increasing mobility and strength in approachable ways. It is a perfect compliment to any fitness regime or to add to your existing yoga practice.
This class will incorporate joint mobility, yoga postures and strength work and will always include a well deserved relaxation.
Strength + Conditioning for Yoga
By isolating different muscle groups we will work through a series of functional exercises using bodyweight to develop strength and stability in the muscles used for our yoga practice, assisting with our alignment in postures and helping to give us the prerequisites we need to practice yoga safely and effective
Iyengar Yoga
Iyengar Yoga carefully focusses on body awareness and alignment – systematically working through a sequence of postures called 'Asanas'.
Students will often say they walk away from an Iyengar Yoga class taller, straighter & full of energy in spite of having worked hard. They also say that they can sleep better, are more self-confident and feel more at peace.